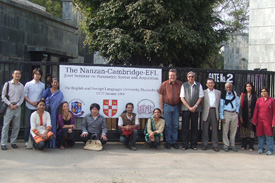 The Center was established in 2003 to promote research in theoretical linguistics at Nanzan and in Asia. It conducts joint research in comparative syntax and language acquisition with institutions in Asia, the United States and Europe, and frequently hosts colloquia and workshops with invited speakers from within and outside Japan. It also supports editorial work for international journals such as Journal of East Asian Linguistics (Springer, Dordrecht) and organization of international conferences such as GLOW in Asia.
It works closely with the Graduate Program in Linguistic Science at Nanzan for the education of young linguists. In particular, it helps the Program's International Collaborative Research Curriculum, which started in 2006 with a generous grant from the Japanese Ministry of Education and Science, by providing opportunities for graduate students to present their research in international workshops and to pursue international joint research at an advanced level.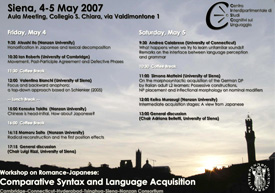 In 2008, the Center started its own large-scale grant project, International Collaborative Research on Comparative Syntax and Language Acquisition, also with funding from the Japanese Ministry of Education and Science. This research project aims to contribute to the understanding of Universal Grammar by pursuing detailed comparative syntax of Japanese and other languages. The participants in the project include faculty members and graduate students at Nanzan, adjunct researchers from other institutions within Japan, and joint researchers at various institutions in the world such as University of Cambridge (U.K.), University of Siena (Italy), University of Connecticut (U.S.A.), National Tsing Hua University (Taiwan), and Hyderabad EFL University (India).
The details of the Center's activities are shown in its website and also in its annual publication, Nanzan Linguistics.
(April 1, 2012)